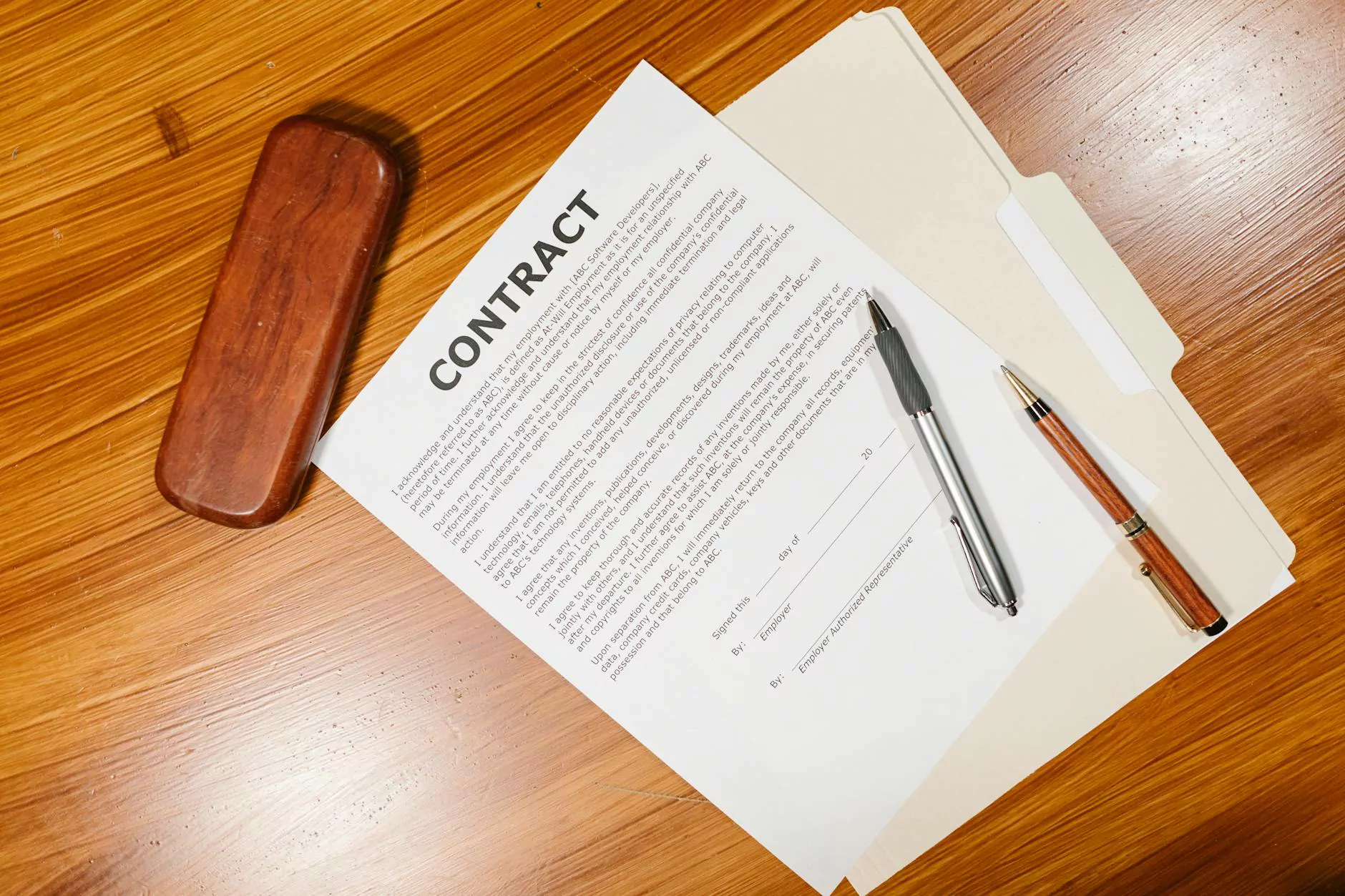 Introduction
Welcome to Blair Patricia Law Firm, a leading firm specializing in Law and Government - Legal services. In this article, we will delve into the topic of employment contracts and why they are crucial for both employers and employees. With our expert legal team, we ensure that you are protected with comprehensive employment contracts tailored to your specific needs. Whether you are an employer or an employee, understanding the importance of these contracts is key to a successful working relationship.
Benefits for Employers
Employment contracts provide numerous benefits for employers, offering clarity and protection. By formalizing the terms and conditions of employment, employers can clearly define expectations and ensure compliance with legal requirements. This includes defining job responsibilities, working hours, compensation, benefits, and clauses related to termination or non-disclosure. With a well-drafted employment contract, employers can minimize the risk of disputes and legal issues and protect their business interests.
Benefits for Employees
For employees, employment contracts offer security and peace of mind. These contracts outline the rights, obligations, and protections provided by the employer. By having a clear understanding of their employment terms, employees can confidently pursue their career goals, knowing they are protected by the law. Employment contracts may include provisions related to salary, benefits, working hours, vacation, sick leave, intellectual property rights, non-compete clauses, and dispute resolution mechanisms. With a well-drafted contract, employees can avoid potential misunderstandings and have a solid legal foundation in the workplace.
Legal Compliance
One of the primary reasons employment contracts are essential is legal compliance. Employment laws and regulations vary from jurisdiction to jurisdiction, and a well-drafted contract ensures compliance with local labor laws. It helps in defining minimum standards, such as minimum wages, maximum working hours, overtime pay, and benefits entitlements. It also ensures adherence to anti-discrimination, health and safety, and privacy laws. By having a comprehensive employment contract, employers demonstrate their commitment to following legal requirements and protect against potential legal claims.
Protection of Business Interests
Employment contracts play a vital role in protecting business interests. They can include non-compete agreements, non-solicitation clauses, and intellectual property provisions, among others. The inclusion of these provisions prevents employees from disclosing confidential information, using trade secrets, or competing against the employer after termination. These measures safeguard the employer's proprietary information, client databases, business strategies, and ensures the continuity of the business operations even after an employee leaves the organization. A well-drafted employment contract provides an additional layer of protection for the employer's valuable assets.
Dispute Resolution
Another significant aspect of employment contracts is dispute resolution mechanisms. These clauses outline the steps to be taken in case of any disagreements or conflicts between the employer and the employee. By including mediation, arbitration, or other alternative dispute resolution processes, both parties can resolve disagreements amicably without resorting to lengthy and costly lawsuits. The presence of a dispute resolution mechanism promotes a fair and efficient resolution process, saving time, money, and preserving the working relationship. It also provides a sense of security and clarity to employees, knowing that any conflicts can be resolved through proper channels.
Conclusion
In conclusion, employment contracts are essential for establishing a strong working relationship between employers and employees. They provide clarity, legal compliance, and protection for both parties. At Blair Patricia Law Firm, we understand the significance of employment contracts and offer expert legal advice to ensure your contracts are comprehensive, enforceable, and aligned with your specific needs. Contact us today to safeguard your business interests and protect your rights as an employer or employee.