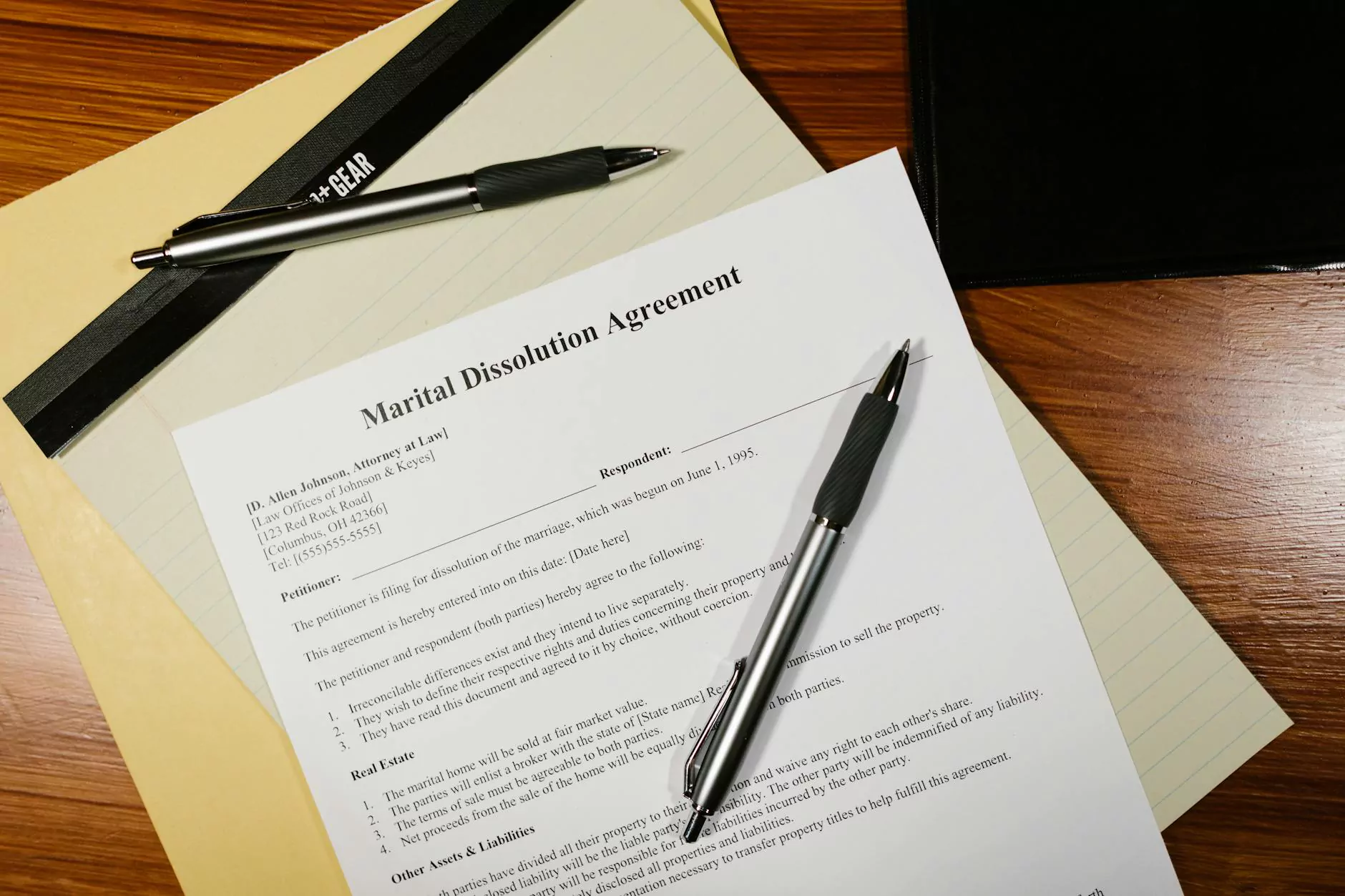 Blair Patricia Law Firm - Providing Expert Legal Representation in Divorce Cases
Welcome to Blair Patricia Law Firm, a leading name in Texas when it comes to divorce law. If you are going through a difficult divorce and require expert legal assistance, you have come to the right place.
Divorce can be an emotionally challenging and complex process, and having experienced and knowledgeable lawyers on your side can make a significant difference in the outcome of your case. At Blair Patricia Law Firm, we understand the intricacies of divorce law in Texas and are dedicated to providing our clients with the highest level of legal representation.
Comprehensive Divorce Services Tailored to Your Needs
Our team of experienced Texas divorce lawyers is well-versed in handling all aspects of divorce cases, including child custody, spousal support, property division, and more. We recognize that each case is unique, and we take the time to understand your specific circumstances and goals.
With our comprehensive approach, we will guide you through the divorce process from start to finish, ensuring your rights are protected and advocating for your best interests at every step. Our goal is to help you achieve a favorable resolution while minimizing stress and uncertainty.
Knowledgeable and Compassionate Legal Representation
At Blair Patricia Law Firm, we believe in providing our clients with not only exceptional legal services but also compassionate support during this challenging time. We understand the emotional toll divorce can take on individuals and families, and we are committed to navigating you through the process with care and understanding.
Our experienced Texas divorce lawyers will take the time to listen to your concerns, answer your questions, and explain the legal options available to you. We will work closely with you to develop a strategic legal approach that aligns with your goals, keeping you informed and empowered throughout the process.
Why Choose Blair Patricia Law Firm for Your Texas Divorce Case?
Choosing the right legal representation for your divorce case is crucial, and at Blair Patricia Law Firm, we offer several key advantages:
Experience: Our lawyers have extensive experience in handling divorce cases in Texas. We have a deep understanding of the legal system and are equipped to tackle even the most complex cases.
Expertise: We specialize in family law, with a specific focus on divorce cases. Our expertise allows us to provide tailored advice and representation to best serve the needs of our clients.
Personalized Approach: We believe in personalized legal services, and our lawyers will work closely with you to understand your unique situation and goals. We will craft a customized legal strategy designed to achieve the best outcome for you.
Strong Advocacy: Our lawyers are skilled negotiators and litigators who will fiercely advocate for your rights and interests. We are committed to fighting for a fair resolution and will pursue all available legal avenues to protect your rights.
Client Satisfaction: The satisfaction of our clients is our top priority. We pride ourselves on providing excellent customer service and maintaining open lines of communication throughout the entire divorce process.
Contact Our Experienced Texas Divorce Lawyers Today
If you are facing a divorce in Texas, don't navigate the process alone. Let the experienced Texas divorce lawyers at Blair Patricia Law Firm be your trusted legal partners. Contact us today to schedule a consultation and take the first step towards resolving your divorce case.
With our expertise, compassion, and dedication, we will work tirelessly to protect your rights and achieve a favorable outcome for you and your loved ones.