When You Should Send a Cease-and-Desist Letter and What to Do if Your Business Receives One
May 15, 2020
Practice Areas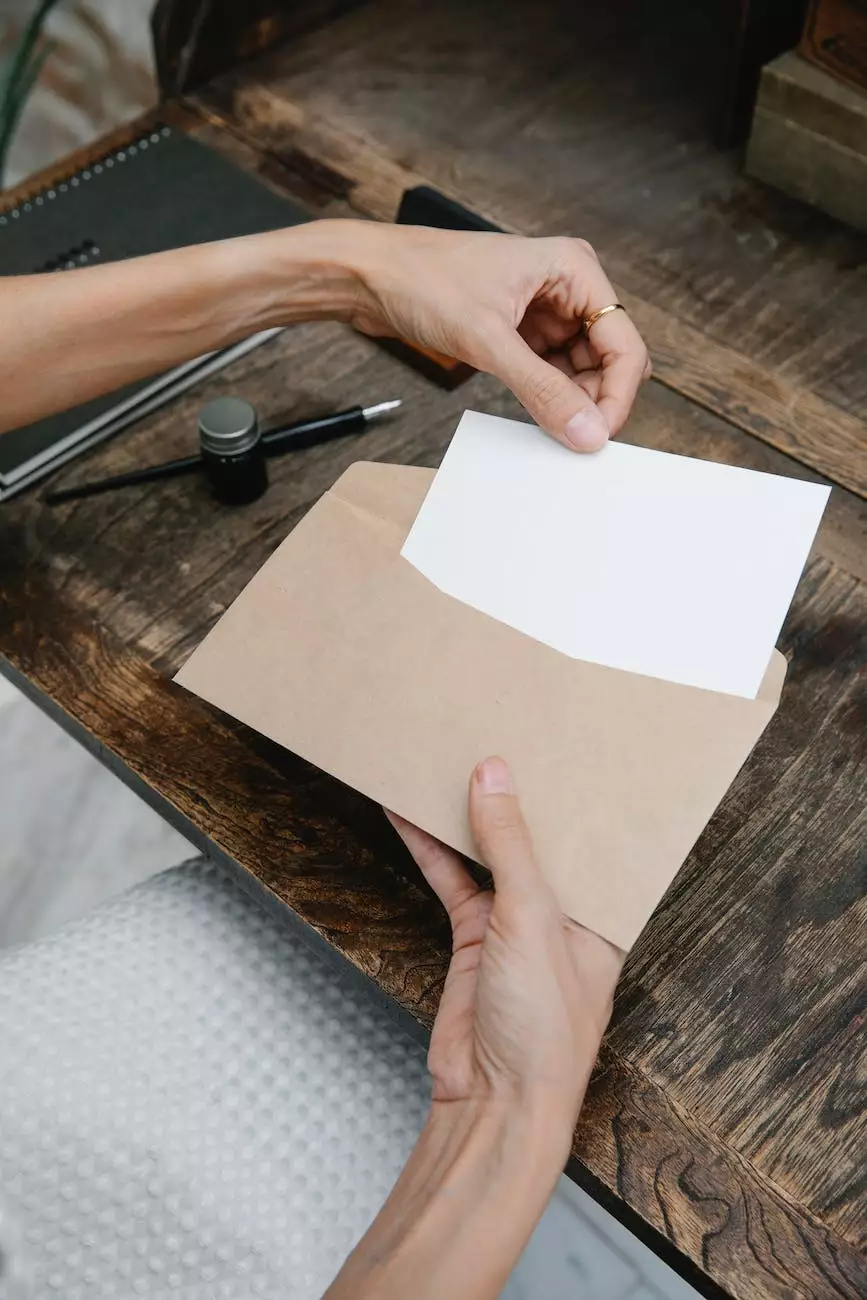 Introduction
Welcome to Blair Patricia Law Firm, your trusted legal partner in matters concerning cease-and-desist letters. In this article, we will guide you on situations where sending a cease-and-desist letter is appropriate and provide you with essential steps to take if your business receives one. Our team of experienced lawyers is dedicated to protecting your rights and ensuring the smooth operation of your business.
Understanding Cease-and-Desist Letters
Cease-and-desist letters are formal documents sent to an individual or entity requesting the immediate cessation of certain activities that infringe upon your legal rights. These letters are common tools used to address issues such as intellectual property infringement, defamation, harassment, or contractual violations. By sending a cease-and-desist letter, you are notifying the recipient of their wrongful actions and providing an opportunity for resolution before considering legal action.
Situations Requiring Cease-and-Desist Letters
1. Intellectual Property Infringement:
If you discover that another business or individual is using your copyrighted material, patented invention, or trademarked logo without your permission, it may be necessary to send a cease-and-desist letter. This letter will highlight your legal rights and demand the infringing party to immediately cease the unauthorized use.
2. Defamation and Libel:
In cases where false statements have been made about your business, damaging your reputation, a cease-and-desist letter can serve as a strong initial response. This letter will outline the false statements made, their impact, and request a retraction or correction. If necessary, legal steps can be taken to protect your reputation further.
3. Harassment or Stalking:
If you or your business are experiencing harassment or stalking behavior, a cease-and-desist letter can act as a warning to the offending party to stop their actions immediately. This letter will emphasize the harm caused and clearly state the legal consequences if the behavior continues.
4. Breach of Contract:
If a business or individual fails to adhere to the terms of a legally binding contract, a cease-and-desist letter can be used to remind them of their obligations. This letter will outline the specific breaches and request immediate compliance with the agreement.
What to Do if Your Business Receives a Cease-and-Desist Letter
1. Read and Understand the Letter:
When your business receives a cease-and-desist letter, carefully read and understand the contents of the letter. Take note of the claims made, the legal basis, and the demands specified.
2. Consult with Legal Professionals:
It is crucial to seek legal advice as soon as possible. Contact Blair Patricia Law Firm to schedule a consultation with our experienced attorneys. We will review the letter, assess your situation, and guide you on the appropriate course of action.
3. Gather Evidence and Documentation:
Collect all relevant evidence and documentation that can support your position. This may include contracts, communication records, intellectual property registrations, or any other proof of your legal rights or compliance with agreements.
4. Craft a Thoughtful Response:
Based on the advice of your legal counsel, draft a well-structured and respectful response to the cease-and-desist letter. Address each claim and lay out your side of the story, backed by the evidence you have gathered.
5. Consider Negotiation or Mediation:
In some cases, it may be beneficial to engage in negotiation or mediation to reach a resolution without pursuing costly litigation. Explore these options, guided by your legal team, to find a mutually agreeable solution.
6. Prepare for Legal Action (if necessary):
If all attempts to reach a resolution fail, you must be prepared to take further legal action. Rely on the expertise of Blair Patricia Law Firm to represent your interests and protect your rights in court, if required.
Conclusion
In summary, sending a cease-and-desist letter can be an effective tool to protect your business's legal rights. Understanding the situations that warrant the use of such letters and taking appropriate steps if your business receives one is crucial for avoiding further disputes and unnecessary litigation.
At Blair Patricia Law Firm, we offer comprehensive legal services to guide and support you through these complex matters. Our experienced team is ready to assist you in sending a cease-and-desist letter, responding to one, or handling any related legal issues. Trust Blair Patricia Law Firm for expert advice and dedicated representation.